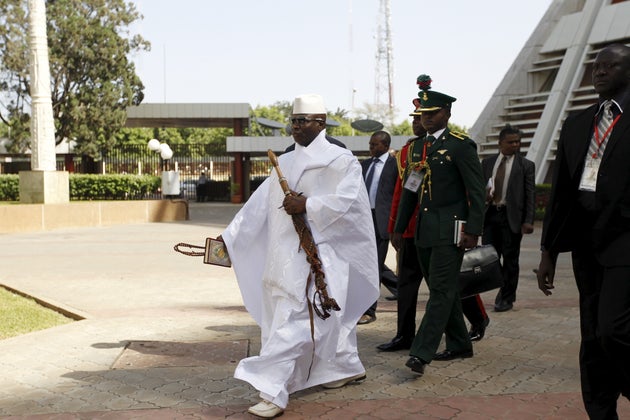 Gambia's authoritarian President Yahya Jammeh has ruled the country for over 20 years.
Gambia often receives only sparse international news coverage, but the tiny West African country of just under 2 million people has had a tumultuous few years. A bizarre,
failed coup
in 2014 caused chaos in the ultra-repressive state and led to violent crackdowns, and thousands
decided to flee
the country to Europe amid the refugee crisis.
Now, in the past month, Gambia has seen a small but unprecedented wave of protests against President Yahya Jammeh. The nation's leader since taking power in a 1994 coup, Jammeh governs as
a harsh authoritarian
who has pledged to
slit the throats
of gay men, claimed
he can cure
AIDS and
vowed to rule
for a billion years.
Jammeh's control over Gambia has involved the use of security forces — as well as brutal paramilitary groups — to
quell any form of dissent
, often through disappearances and torture. Despite this culture of fear and repression, protesters have been publicly demonstrating since mid-April for voting reform and release of prisoners.
"Going on a month now is the longest, most sustained and certainly largest act of public defiance against Jammeh since he came to power," Jeffrey Smith, executive director of advocacy group Vanguard Africa, told The World Post. "They're facing off in the streets with one of the continent's most ruthless and brazenly callous regimes."