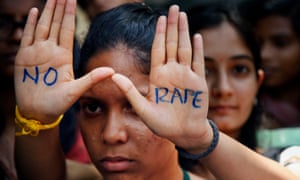 An Indian student at a 2013 demonstration after four men were convicted of rape and murder of a student in New Delhi the previous year. Photograph: AP
O
n the evening of 3 March 2015, I was in Delhi about to attend the first media screening of my film
India's Daughter
, about the
2012 gang rape and murder
of a young woman on a bus in the city. I had chosen 8 March (International Women's Day) as the date that seven countries across the world, including India, would broadcast the documentary, symbolically joining hands in a global gesture recognising the pandemic of violence against women and girls.
All of a sudden a young journalist came running up to me, in a panic, brandishing her mobile phone. She showed me a text message that announced that my film had been
banned in India
, and that I was about to be arrested.
I felt strangely calm, though nothing at all had prepared me for the resounding blow of the ban. My editor, who was at my side, started crying and begged me to leave and "save myself". My instincts were entirely in another direction. After phoning seven lawyers, who all advised me to go immediately, I resolved to leave
India
on the plane I had originally booked, some 26 hours hence.
What I was most concerned about was that if prosecution were to be brought against me, I should not be accused of trying to evade justice.
I received an email from the Delhi police public relations officer, outlining the reasons the commissioner of police had given to the magistrate for the ban to be imposed, including a fear that the film would lead to a "disruption of law and order". The irony of this was not lost on me. They feared protests, when it was my admiration and gratitude for those Indians who had poured out on to the streets with such commitment, courage and tenacity, demanding a better world for women and girls, that had led me to commit two and a half years of my life to this campaigning film.
The morning after the announcement of the ban I watched proceedings in the Indian parliament on TV in a state of shock. Apparently grown-up men and women MPs were in a state of what can only be described as hysteria. There were cries of "She is decimating our tourist industry" and "This outsider has orchestrated a campaign to shame India". Only two noble human beings (Javed Akhtar and Anu Aga) were in favour of the film and urged India to be courageous enough to look in the mirror. And, of course, I knew for a fact that none of the MPs had actually seen the film they were in such a furore about. At that stage it existed on one pen drive, in my purse. Nonetheless they were full of certainty and negative opinions about it.
I left for London that night. I was later informed that the police had arrived at the house I had been staying at, brandishing a picture of me, half an hour after I had left for the airport.
It is naive to think you can ban a film in the digital age. This ban merely fans the flames of the hunger of Indians to see it. It has ensured that the "wrong" version of the film (the international version, which named the victim – illegal in India – and didn't have the global statistics at the end of the film, which changed its meaning), was seen by 1.5 million Indians within the first hour after the BBC had aired it.
Furthermore, the ban has proved utterly counter-productive. When I show the documentary to international audiences, they are highly moved by the Indians who were impassioned enough to protest at the ill-treatment of women, and then when they hear the Indian government has banned the film, their jaws invariably drop and their compassion turns to derision. They cannot believe that India, a so-called democracy, can ban a public interest film that pleads for an end to gender-based violence.
In August, the government
banned 857 porn sites
. Immediately, there was a massive outcry on social media by Indian men who demanded their porn sites back. "India's a democracy," they cried, "the government cannot trample on freedom of expression." And the government gave in to these cries, and
lifted the ban
on their precious porn sites. The ban on the film persists. What message is India giving to the world?
And where is Prime Minister Modi on all of this?
We do not know, for he remains silent. I have
pleaded with him
a number of times by addressing him on TV, and sending him letters, to consider that the film merely tells the truth. This truth is utterly in tune with the words the prime minister spoke on Independence Day last year, when he made
a serious and welcome appeal
to the Indian people on gender inequality. He said: "When we consider the question of rape in our country, we should hang our heads in shame." His words, not mine. And how has his government followed through on those words? It has banned a film that is rightly and justifiably critical in considering the question of rape in India and elsewhere. It is the ban that brings shame on India, not the film.
I am profoundly grateful to Labour leader Jeremy Corbyn, and the 40 MPs who have backed the motion he has tabled in parliament, calling on David Cameron to ask Modi during his state visit to Britain to lift the ban on India's Daughter. I am deeply grateful also to NDTV which, in a heroic gesture of protest,
ran a black screen
on its commercial TV station for an entire hour from 9pm on 8 March, when the banned film was scheduled to have been shown. I am grateful to, and in awe of,
Ketan Dixit
, an Indian activist, who risked, and indeed suffered, arrest in defying the unconstitutional and undemocratic ban when he showed the film to the residents of
Ravi Das colony
, the semi-slum where four of the rapists had lived. I am deeply saddened by the silence of the Indian people in the face of this ban.
And I'm devastated by the fact that a group of so-called Indian feminists, women I had formerly viewed with respect, actually called for the ban on the film.
I very much hope that there will be many British people and non-resident Indians of the UK alike, who will join me today in protesting outside Wembley Stadium where Modi is addressing a rally. And I hope and pray a vociferous call for the lifting of this absurd and misguided ban will be met with the same success as the voices of those Indian men on social media who successfully persuaded the government to lift the ban on their pornography sites. Only then can India hold its head up high again as a country committed to a better world for women, and as the only country in the world that has protested for women with so much vigour and tenacity.